Creating a Successful Business from Scratch--Naturally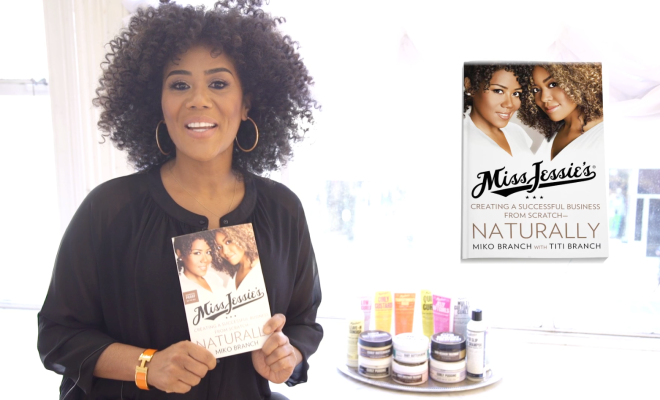 Miss Jessie's products and the dynamic duo that emerged to introduce us to these natural hair gems revolutionized the hair care industry. Filling a need (and a pretty large gap) for thoughtful hair care amongst the naturally curly in the 90's and early millennium, Titi and Miko Branch built an empire based on knowledge, research, innovation and a no excuses attitude. Today Miko Branch released her book titled Miss Jessie's Creating a Successful Business from Scratch—Naturally. This part autobiography, part self-help business guide lends itself to the vast collection of the sisters' already unique assortment of ideas. I enjoyed every moment of reading through their journey. I'm sure you will too.
The two women learned to dominate as businesswomen with lessons from their family—specifically their family's matriarch Miss Jessie and their entrepreneurial father--and lessons from their own mistakes. They learned in the face of failure and persevered instead of collapsed when times got rough. Miko goes into detail about the mistakes and hardships they faced helping the reader understand that building an empire takes work but is very possible. It isn't the rags to riches story that we're constantly fed. It's more of a journey throughout their lives including anecdotes, both good and bad.
Miko Branch is unguarded when she shares the hardship she faced as a child while her father sought his dreams and her mother sought hers. These moments allowed her and her sister to build an unbreakable bond—one that withstood the test of time including a two-year legal battle with her older sister, Titi over the company. Miko shares the moments with her family that shaped her personality as well as her work ethic. Welcoming us into her life, Miko sees her experience as a businesswoman as intertwined with her childhood—unbreakable and mutually beneficial. I appreciated the honesty prevalent in the book and Miko's willingness to bare all for the sake of teaching. She delves into how "copycat" companies grew from their product and how these same copycats with cheaper prices had the potential to threaten their empire.
Miko provides a unique and practical way of addressing and overcoming obstacles giving the reader several mechanisms for positivity. One particular piece of advice that was incredibly helpful was her perspective of saying no to potential opportunities. Instead of viewing no as a missed opportunity, she frames it as an opportunity to gain more time and to protect her brand. Saying no is powerful in such a way that it transforms the reader's view of the much-despised word.
Overall, Miss Jessie's is a teaching experience. Though some of the advice seems repetitive and at times one desired closure on some of the stories shared, Miko teaches readers how to leverage contacts, work hard and create a loyal customer base through authenticity and passion. She is candid in her approach, which makes the reader a lot more confident in their own pursuits and obstacles. And in the wake of the tragic news of Titi's passing, it was calming to know the overwhelming value of her life while she was with us. I wholeheartedly suggest this read.
---
#MissJessiesBook Giveaway
We want to share their inspiration and some of Miss Jessie's goodies. Follow the steps below to enter (you MUST complete both steps).
1. Add a comment below sharing an obstacle you've faced in your career or business and how you overcame that obstacle.
2. Subscribe to our mailing list on the homepage.
We look forward to reading your responses.
[GIVEAWAY CLOSED]
CLICK HERE TO PURCHASE THE MISS JESSIE'S BOOK
---
Ruth Jean-Marie is a recent graduate of New York University where she received her Master's of Science degree in Global Affairs with a concentration in human rights and international law. Dedicating her life to the alleviation of misery around the world, her greatest goal is to become a superhero. Her interests include fashion, equality for women and Black people--that real equality, not the surface level stuff, traveling around the world and writing. She's excited about life and intends on living it. She also has a mild obsession with shoes, shopping and sharing her opinion. You'll hear all about it. Catch up with Ruth, honoring Black  History, past, present and future at @toharrietwithlove.