The Birth of a New Nation: Nelson Mandela, A Man Who Honored Women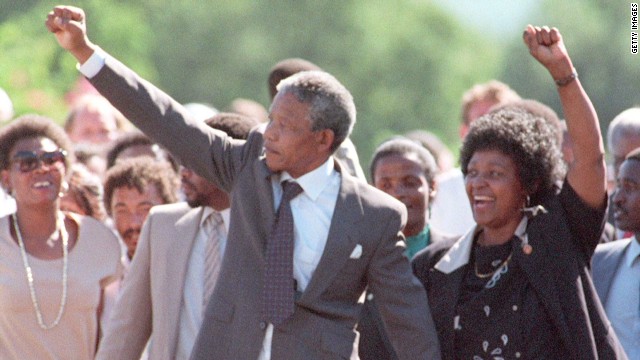 July 18, 2016 would be the 98th birthday of South African President, phenomenal speaker, activist, and hero: the great Nelson Mandela. Originally born as Rolihlahla Mandela in 1918 (the name Nelson was later assigned to him at primary school, as it was custom to give students "Christian" names), his mother was Nonqaphi Nosekeni and his father was Nkosi Mphakanyiswa Gadla Mandela, the principal counselor to Acting King of the Thembu people, Jongintaba Dalindyebo, until his death in 1930 when the King took young Nelson to live with him.Young Mandela always dreamed of contributing to the fight for freedom for his people, as his ancestors had done during the wars of resistance.
Nelson Mandela took to civil activism early in life. During his time working towards his Bachelor of Arts degree from University College of Fort Hare, Mandela was expelled for protesting. When he returned to his home with the King Jongintaba, at the Great Place at Mqhekezweni, Mandela was faced with a grave decision of either returning to school or being forced into an arranged marriage. Displeased with his options, he fled to Johannesburg, South Africa in 1941. He would go on to earn his BA through the University of South Africa and return to Fort Hare for graduation in 1943. Over his lifetime, Nelson Mandela would become known as one of the greatest world leaders, most influential and persistent activists for human and civil rights, and a hero to many people, worldwide for his humility and resilience.
Today, we are taught about the legendary work of Nelson Mandela in the rigorous effort to end apartheid in South Africa. What we often overlook is how influential Mandela was in the fight for women's rights as well. President Mandela made sure that his work and political influence benefited all people, not just affluent or otherwise wealthy men. One of the instances where Mandela applied his influence for the good of women, was when he created equal employment opportunity for women, post apartheid. He is quoted saying, "Freedom cannot be achieved unless women have been emancipated from all forms of oppression...Our endeavors must be about the liberation of the woman, the emancipation of the man and the liberty of the child." Mandela goes on to appoint women to one third of his cabinet employment positions, following the 1994 opening of the first parliament.
Additionally, Nelson Mandela was prompt to recognize that men were not alone in the fight against African apartheid; how the ANC Women's League, which Mandela's former wife Winnie was apart of, played an extremely significant role in the anti-apartheid movement. August 9, 1956, more than 20,000 women marched to the Union Buildings in Pretoria to protest legislation requiring Black women to carry passes in "urban areas". President Mandela honored those women by declaring August 9th a National Holiday, calling it Women's Day.
These are just a couple of the phenomenal feats Nelson Mandela implicated, to show his support for the Black woman; the Queen, the SHEro. For his valour and unwavering spirit of justice, we honor the leader who honored us; thank you and Happy Birthday, Nelson Mandela!
---
Hey yawl I'm Tyler Marie, or Ty as I've come to be called. I am a (West-Side) Chicagoan 'til Chicago ends. I attended Whitney M. Young Magnet High School here in the city and went on to attend the first Private HBCU, Wilberforce University (OH) where I obtained my B.A. Sociology in 2012. It's probably pretty clear now that writing is kind of 'my thing' but I'm more than okay with that. Other hobbies include eating, playing basketball, modeling and singing. Basically, I spend all my time trying to be as fly of a Black Girl as I can be. Connect with me via: Twitter/Instagram- @_Mighty5| Tumblr- iamjusttyler.tumblr.com